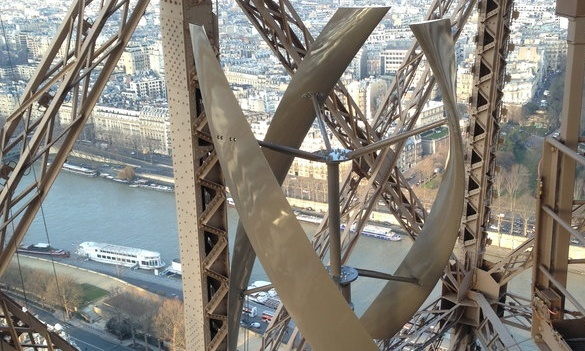 Power Sales Group, Inc. Operations Manager, Lisa Cassidy had the opportunity to see Paris on her recent family trip to France.
First stop on her trip, the Eiffel Tower; but not because it is a 126 year old icon symbolizing France across the generations.  Her interest was in the Eiffel Tower's green initiative with the addition of (2) onsite wind turbines.  Made to blend with the tower's original design, the turbines are installed inside the scaffolding on the second level and are painted in the same color making them nearly impossible to see.
The pair of VisionAIR5 wind turbines were designed by Urban Green Energy. At 5.2 meters in height and 3.2 meters in width, these vertical axis wind turbines weigh in at 756 kilograms (kg) and have a lifetime of 20 years. Furthermore, they are perportedly quiet due to lower blade tip speed and low number of revolutions per minute (RPM).
The turbines are installed 122 meters (400ft) from the ground in order to maximize annual electricity production potential. All told, the turbines are expected to produce about 10,000 kilowatt hours (kWh) of electricity per year, or about the total annual demand of the tower's first floor, home to restaurants, a souvenir shop, and history exhibits.
In addition to this modern marvel, Lisa and her family enjoyed all that Paris had to offer.  In their week-long trip, she visited Notre Dame, the Catacombs, Versailles and stopped by the Louvre.  They dined on baguettes, crepes, French Champagne and foie gras.  All in all the trip was, C'est Bon!!!