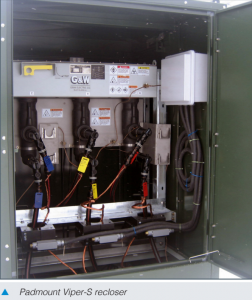 As demand for clean energy increases, customers are searching for inexpensive yet efficient means for renewable integration. G&W Electric has developed a new padmounted recloser, the Viper-S (38kV, 800A continuous current, 12.5kA symmetrical interrupting, six internal voltage sensors and microprocessor control) in order to integrate renewables into the grid.
Recently, a college established a need for a highly featured recloser to protect and connect a new array of PV panels to the grid.
The college purchased a  25 year fixed rate agreement and needed reliable yet affordable equipment  to insure economic viability over time. After reviewing several options, the developer selected G&W's padmounted Viper-S recloser to protect their solar investment.
The cost of a padmounted G&W Viper recloser is significantly lower than a typical SF6 circuit-breaker or metal-enclosed switchgear. Most breakers are designed for higher continuous currents and fault-duty ratings, thus excessive for demands of smaller solar operations like this one. Continuous currents and fault duty ratings of the G&W Viper-S are sufficient for most applications.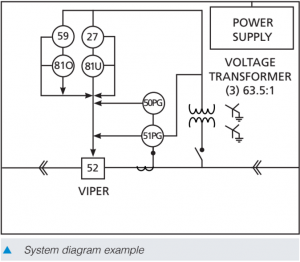 Additionally, the Viper-S is virtually maintenance-free. There are no gas or oil insulation levels to inspect or test on a regular basis. The only recommended replacement part is the relay battery, which can be monitored remotely and easily replaced after several years of service.
Finally, the G&W solution is designed to operate for a service life of 30 years. This includes up to 10,000 full-load operations, giving the site owner the ability to open and close the circuit depending on fluctuations in utility rates.