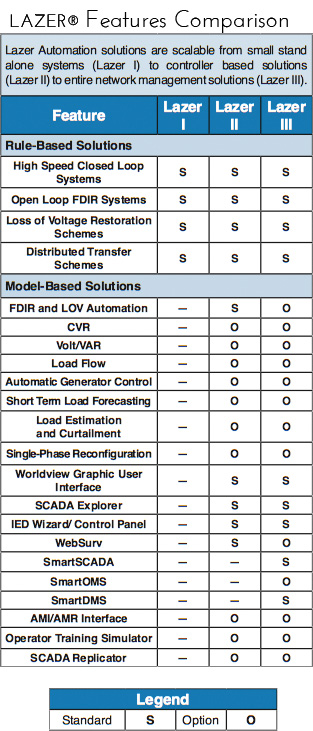 Power outages cost money. Whether it's from lost production, crew and maintenance costs, or failure to provide a service, outages always hurt business.  The good news is that a package of solutions is available from a world-class provider, improving upon the reliability of critical distribution networks.
Specifically, G&W's LAZER® Automation system approaches outage mitigation on several levels including custom hardware, software, and integration for any type of customer system.  To further examine, we've isolated FIVE of the top reasons to choose a pre-engineered system from G&W:
1. Factory acceptance testing – prior to shipping an automation solution, G&W's team of engineers set up all of the hardware, software and components, and mimics the customer communications scheme. With the devices set up end-to-end in the testing facility, complete testing of the system is done to assure a seamless installation and commissioning at the customer's location.
2. Integration of known devices – In addition to G&W devices, components from well-known and proven third-party vendors are utilized, such as SEL, GE, MDS, and Survalent, when designing a LAZER® Automation scheme. These devices have been vetted and tested thoroughly by engineers that have experience integrating them into multiple systems.
3. Communications and Protocols – G&W can provide whatever communication medium (radio, spread-spectrum, fiber optic, mesh) from customer-preferred vendors. Same with protocols – customer preferences include DNP3.0, Modbus, Mirrored Bit, IEC 61850.
4. G&W Experience – G&W engineers have experience automating everything from simple preferred-alternate schemes, to large utility and industrial automation projects.
5. Project Management/Warranty – when you select G&W LAZER® for your automation solution, you have one point of contact for all aspects of your project. This means one call for all hardware, software and communications related questions. Plus, the entire system is warranted by G&W Electric!
If you're looking for an automated system with a significant track record, G&W will not disappoint. G&W boasts an experienced team of engineers and a completely custom platform. For more information contact moc.s1702325591elas-1702325591rewop1702325591@sela1702325591s1702325591
Other resources: www.gwelec.com
Example LAZER Automation® system