If finding a sturdy, yet dynamic mounting base for transformers is a challenge for you, take a look at these new fiberglass options from Nordic Fiberglass Inc.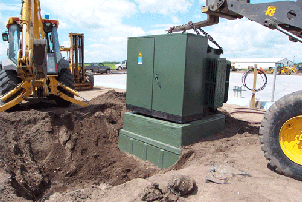 Nordic Fiberglass Inc. is now providing two box-pad mounting options for three-phase transformers: 18″ and 36″ high models rated at 9,000 lbs.  Each pad is constructed with woven roving glass reinforcement providing for a strong, fire-retardant base.
Pads are quick to set up and easy to maneuver.  Only one piece, the pad itself, needs installation. This eliminates assembly time and extra material costs such as concrete pouring. Lifting eyes are also standard which provide for fast and easy mobility in the field.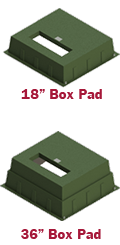 A sturdy mounting surface is facilitated by multiple layers of woven roving glass covering a wooden core, which is especially good for supporting transformer oil tanks.  The taller 36″ surfaces are reinforced with fiberglass-encapsulated 2×4's and vertical ribs for additional support strength.
Both box pads have a mounting surface of 75″ x 69″ and accommodate transformer cable compartments with a 48" x 16" top opening.  Extra space within the pad allows for the looping of extra cable and easy cable training.
For more information on these box pads, contact us at moc.s1695999255elas-1695999255rewop1695999255@sela1695999255s1695999255 and check out the manufacturer's website  for full specs: http://www.nordicfiberglass.com/html/9k_box_pads.html