Meyer Machine Company was established in 1927, when Louis Meyer purchased a small machine shop in Red Wing, MI. Acquired by his sons Roy and Gordon in 1939, the Meyer Machine Company branched out into steel fabrication and steel accessories, and eventually becoming a historic pioneer and innovator in the transmission industry.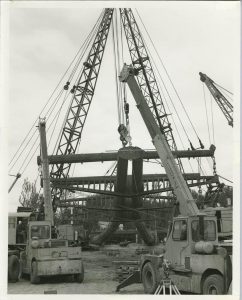 Trinity Meyer represents a heritage of over 50 years of innovation. In the late 1950's, transmission lines were facing heavy public scrutiny, driven by issues such as limited rights-of-way, large transmission footprints, and unsightly aesthetics. Meyer introduced the patented Poly-12 multi-sided transmission pole, improving public acceptance and forever transforming structure design in the transmission industry.
Meyer also became the first transmission pole supplier to use corrosion-resistant weathering steel, the first to utilize full-scale vertical testing, and the first to develop and distribute wood-equivalent steel poles.
During the 1960's, steel transmission pole use had become widespread, with the transmission industry relying heavily on general ASCE and AISI practices. Meyer, along with other suppliers and customers, began the development of the very standards that govern the industry today, including welding, ASTM steel specifications, quality assurance standards, and general guidelines for design, fabrication and delivery.
Today, Trinity Meyer remains one of the transmission industry's premier steel structure providers, offering engineered solutions for many of today's industry transmission challenges for voltages up to 765kV. Innovations, such as Trinity Meyer's patented QuickPin Arm Connection® and the QuickPier Adapter™, reduce total installation time and cost while promoting a commitment of continuous improvement, quality and reduction of environmental impact.
QuickPin Product Guide – Click Here
QuickPier Product Guide – Click Here
Contact moc.s1702321068elas-1702321068rewop1702321068@sela1702321068s1702321068 for more information.