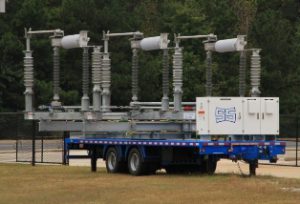 Southern States, LLC has a long history of innovation in the high-voltage switch business. Some of their recent innovations include highly reliable capacitor switching products and a definite-purpose reactor switch for utility substation applications.
Another recent innovation is Southern States High Voltage Mobile Solutions. This allows our customers to deploy power switching equipment easily and quickly to a needed location.
Main Benefits of High Voltage Mobile Solutions:
Quick deployment
Simple set up
Emergency restoration
Small, flexible designs
Fits existing substations
Ideal for temporary configurations
No DOT permitting needed
Planned bypass outages
Highly adaptable
Please click this link for more detailed information.
http://www.southernstatesllc.com/services/61-High-Voltage-Mobile-Switching-Solutions
Video: Mobile Switching Solutions -one of many HV switching innovations from Southern States.